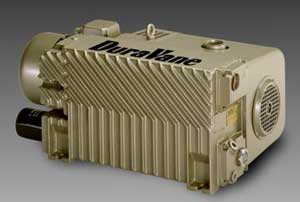 These single stage, air-cooled and oil lubricated rotary vane vacuum pumps are well designed.  Moreover, they are reliable and cost competitive. The following two versions are available: Standard and Wet Service. Similar to the rotary piston pump, the rotary vane pump excel at handling clean, dry air. The single-stage pumps are ideal in industries including vacuum packing, lifting, chucking, paper converting, electronics, and printing because of their integrated oil-recirculation system. The "Wet Service" variant was specifically developed for high water content, such as stone and glass cutting.
The compact design of this vacuum pump make them great for lab-scale applications as well. Wintek commonly sells this type of vacuum pumps as central vacuum sources for laboratory and research facilities.
The standard versions are designed for relatively clean applications, but general industrial service are common as well. In addition, these vacuum pumps include an integral closed loop oil-circulation system utilizing long life composite vanes, heavy duty construction, direct drive, and compact. Also they have low noise levels.
Features include:
Compact Simple Design
Direct Drive
Air-cooled (no cooling water)
Quiet Operation
Deep Vacuum Operation (to 29.9"HgV)
Oil Mist Elimination for 99.9% oil mist removal
Standard rotary vane vacuum pump equipment also has:
Composite (non-metalic) vane material, thus providing long life
TEFC High Efficiency motors
Integral exhaust filters
Spin-on oil filter
Anti-suck back valve
Gas Ballast Valve
Oil level gauge
Model
CFM
Displacement
End
Pressure
(Torr)
HP
Noise @ 3'
(dBA)
Weight
(lbs)
Dimensions
RVL006H
5.6
1.5
0.4
60
22
12"L x 7"W x 6"H
RVL010H
8.5
1.5
0.75
62
35
17" L x 7"W x 6"H
RVL020H
19
0.5
1.5
65
55
15"L x 11"W x 9"H
RVL031H
28
0.5
2.0
67
110
19"L x 13"W x 10"H
RVL051H
45
0.5
3.0
69
115
19"L x 13"H x 10"H
RVL076H
75
0.5
4.0
72
165
28"L x 15"W x 11"H
RVL145HH
145
0.5
7.5
76
350
39"L x 21"W x 16"H
RVL212HH
212
0.5
10
70
440
39"L x 21"W x 16"H
DuraVane-Wet Service
These single stage oil-lubricated rotary vane vacuum pumps handle saturated (water) air and also includes an integral oil/water separator with condensate drain valve.
Model
CFM
Displacement
End
Pressure
(Torr)
HP
Noise @ 3'
(dBA)
Weight
(lbs)
RVL020W
19
1.5
1.5
65
56
RVL031W
27
1.5
2
67
112
RVL051W
45
1.5
3
69
118
RVL076W
70
1.5
4
72
170