Oil-Sealed Vacuum Systems
Dekker Vmax
Dekker Vacuum Technologies (DVT's) Vmax system is the result of years of experience in the design, manufacture, operation and application of the oil-sealed liquid ring vacuum pump system concept.
All Vmax systems feature liquid ring vacuum pumps manufactured to IS09001 quality control standards. Single-stage, high efficiency liquid ring vacuum pumps are available up to 10,000 CFM with vacuum capabilities up to 29.5″Hg. Two-stage pumps available for higher capacity at deeper vacuum applications.
Air-cooled operation (water-cooled is optional), which means these systems can be implemented in any type of plant.
The DVT patented DX-5 air/oil separator design features five stages of separation, and hence is the best air/oil separation in the industry.
Another advantage of the DX-5 separator is the structural design. The tank is cylindrical, resulting in superior strength, which is very important on units operating with back pressure. This design also eliminates possible leaks associated with square tank designs.
Vmax oil vacuum pump systems are extremely quiet in operation with sound levels generally in the 75-80 dBA range.
The Vmax systems can also operate at low vacuum without overheating due to the amount of heat the oil sealant can absorb.
DVT offers an unparalleled full 3-year warranty on Vmax systems*.
A wide range of standard system configurations is maintained in our inventory for quick shipments or for emergencies when a system is down.
Oil sealed vacuum pumps are great at achieving deeper vacuum than traditionally water-sealed vacuum pumps.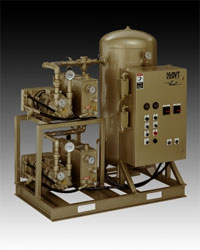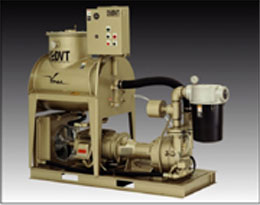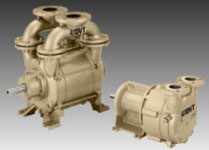 Performance Characteristics VmaxLT / Vmax Oil-Sealed liquid ring vacuum Systems
Vmax System
Maximum
Capacity
(CFM)
Maximum
Vacuum
("HgV)
Motor
(HP)
Pump
Speed
(rpm)
Noise
Level
(dBA)
Oil
Capacity
(gal)
Weight
(lbs)
VMX0035M
35
29
3
3450
76
2
390
VMX0082M
75
29.5
5
1750
76
6
480
VMX0102M
100
29.5
7.5
1750
76
6
540
VMX0152M
150
29.5
10
1750
76
6
565
VMX0082K
75
29.5
5
1750
76
4
700
VMX0102K
100
29.5
7.5
1750
76
5
775
VMX0152K
150
29.5
10
1750
76
5
875
VMX0202K
200
29.5
15
1750
76
12
1100
VMX0302K
300
29.5
20
1750
76
12
1250
VMK0450K
450
29.5
25
1750
78
13
1750
VMX0550K
550
29.5
40
1750
78
13
1850
VMX0650K
650
29.5
40
960
79
17
3700
VMX0750K
750
29.5
50
1200
79
17
3700
VMX1000K
1000
29.5
60
960
80
30
4000
VMX1100K
1100
29.5
75
1100
80
30
4000
VMX1200K
1200
29.5
100
1200
80
30
4000
VMX1500C
1800
27.5
100
740
82
consult factory
consult factory
VMX2000C
2200
27.5
125
740
82
consult factory
consult factory
VMX3000C
3100
27.5
200
555
86
consult factory
consult factory
VMX4000C
3800
27.5
200
495
86
consult factory
consult factory