Wintek can help you with your Intervac liquid ring vacuum system for replacements, upgrades, parts, oil, and also troubleshooting. We have extensive experience with these vacuum systems, and we may have even provided the process design for your system.
Intervac Corporation, Victor, NY, manufactured several product lines of vacuum systems using liquid ring vacuum pumps from 1984 until 1996. The products were well built, and many are still operating today.
The products manufactured by Intervac included: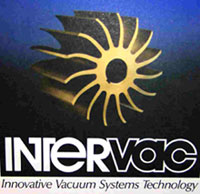 HydroSeal™ – Water sealed liquid ring vacuum pump systems
Hyvac™ – Boosted liquid ring vacuum pump systems
SolvSeal™ – Chemical Duty liquid ring vacuum pump systems
SynSeal™ – Oil sealed liquid ring vacuum pump systems
Wintek started working with Intervac in 1987 as a representative and distributor for their standard HydroSeal™ and SnySeal™ vacuum systems. During this time Intervac would build custom vacuum systems for Wintek for the process markets. Originally Intervact sold these systems (as Intervac vacuum pump), and eventually changed to the SolvSeal™ trade name. By 1990, Wintek was Intervac's largest distributor. Although Intervac has gone out of business, Wintek is still here to assist with any vacuum applications you may have.
If in need of replacement parts, Wintek sells pumps identical in performance from our various pump vendors. This includes Dekker Vacuum Technologies, with whom we are a current representative.