Rotary Piston Vacuum Pumps
A rugged type of vacuum device is the rotary piston vacuum pump. Industries such as aerospace, vacuum degassing, evacuation, metal drying, and vacuum impregnation use the rotary piston vacuum pump to create vacuum. This type of pump is attractive when handling dry, non-condensable loads.
How Rotary Piston Pumps Create Vacuum
The piston is eccentric to the main bore of the pump cylinder. Gas is drawn into the chamber as the volume in the "bucket" expands as the piston moves around the chamber. When this volume is at its maximum, the bucket seals as the piston closes off the inlet port. As the sealed-off gas rotates around the chamber, the gas is compressed and discharged out of the outlet port at a pressure slightly above atmospheric.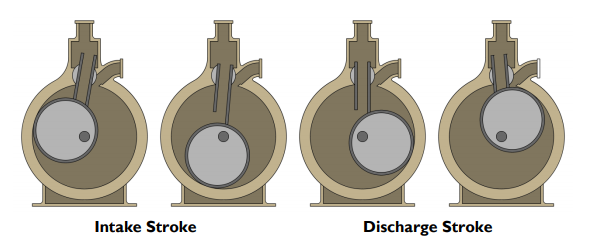 A thin film of lubricating oil lines the inside of the vacuum chamber within the rotary piston pump to achieve a better vacuum seal. However, this oil can become entrained in the process vapors and is present in the discharge vapors of the vacuum pump. Contaminated process gas is unavoidable.
The rotary piston pump has two configuration, single-stage and two-stage. Similar to liquid ring vacuum pumps, the two-stage configurations have higher capacities at deeper vacuum than the single-stage designs. Additional components can be added to the rotary piston vacuum system to improve operability and convenience, including: oil mist eliminators to collect and recycle entrained oil, after-condensers and receivers to collect trace amounts of condensables on the discharge of the system, and many others.
Pros and Cons:
The rotary piston pump has many advantages:
Relatively cheap and high capacity at deep vacuum levels (<0.01 Torr)
Rugged design which allow for a long life
Can allow trace amount of solvents
Limitations of this type of vacuum pump are as follows:
Cannot handle liquids or any process carryover because these will damage the internals of the pump
Cannot easily handle condensable vapors
Solvent recovery is not possible due to oil contamination
Designs can be noisy
Single-Stage Rotary Piston Pumps
Model #
ACFM
HP
Cooling
In
Out
HV55A
52
3
Air
2"
1.5"
HV140A
130
5
Air
2.5"
2"
HV170
170
7.5
Water
3"
2"
HV412XT
300
340
10
15
Water
Water
4"
4"
3"
3"
HV450
450
20
Water
4"
3"
HV635
635
30
Water
6"
4"
HV850
850
40
Water
8"
5"
Two-Stage Rotary Piston Pumps
| Model # | ACFM | HP | Cooling | In | Out |
| --- | --- | --- | --- | --- | --- |
| HVC35A | 32 | 3 | Air | 2" | 1.5" |
| HVC65 | 65 | 5 | Water | 2.5" | 2" |
| HVC100A | 95 | 5 | Air | 2.5" | 2" |
| HVC180 | 180 | 10 | Water | 3" | 2.5" |
| HVC340 | 340 | 20 | Water | 4" | 3" |